Shamanic
Seminar-at-Sea
with Nicki Scully and other teachers
June 12 - 19, 2015
What is Included?
Seminar-at-sea with renowned speakers
Shamanic experiences, rituals, and healing
Yoga instruction with an expert teacher
Awesome readers, healers, and shamans
Some of the most beautiful staterooms at sea
Delicious dining, including room service
Incredible onboard entertainment
Fun-filled youth programs
Broadway stage shows
The most spectacular destinations on the planet
Much, much more
Scheduled Speakers and Teachers Include:
Susan Shumsky
Lynn Andrews
Denise Linn
Don Jose Ruiz
Anodea Judith
Nicki Scully
Carl Johan Calleman
Elizabeth Araujo
Michael Cremo
Ernesto Ortiz
Adhi Two Owls
Meg Blackburn Losey
Sean David Morton
Rainbow Thunder Heart
Bennie Le Beau (Bavado)
Joey Korn
Ed Grimsley
Mei Lan Whitewolfstar
Nancy Joy Hefron
Joan Hangarter
Susan Schontag
Halle Eavelyn
Linda Backman
Connie Fisher
Come join us on an incredible luxury cruise of Southwest Alaska with some of the most profound speakers, readers, healers, and exhibitors of our time!
The Spirit of Alaska Holistic Cruise and Seminar-at-Sea will take place June 12 - 19, 2015 on the luxurious Royal Caribbean Jewel of the Seas, sailing from Seattle, WA to the awe-inspiring glaciers and ports of Alaska.
During our seven-day cruise, seminars and classes will take place in conference rooms on the ship, and during our port calls in Alaska. Enjoy 7 days of bliss, as we sail into higher consciousness and spiritual awakening. Experience the indigenous Alaskan culture and discover the tradition of Shamanism in Alaska and worldwide. View the crisp, starlit Alaskan sky with a nightly UFO Starwatch. Practice yoga, enjoy vegetarian, non-vegetarian, or raw food, and participate in awesome spiritual workshops and activities. Come make new friends, gain greater wisdom, and create memories that will last a lifetime!
AND, Nicki will be celebrating her birthday on this cruise!! Come join us in celebration of her life and wisdom in one of the most pristine and natural wonderlands!
To book your trip, please visit:
When you register, please make sure you enter my name, Nicki Scully, as a "Referral" on the registration form at spiritualityproducts.com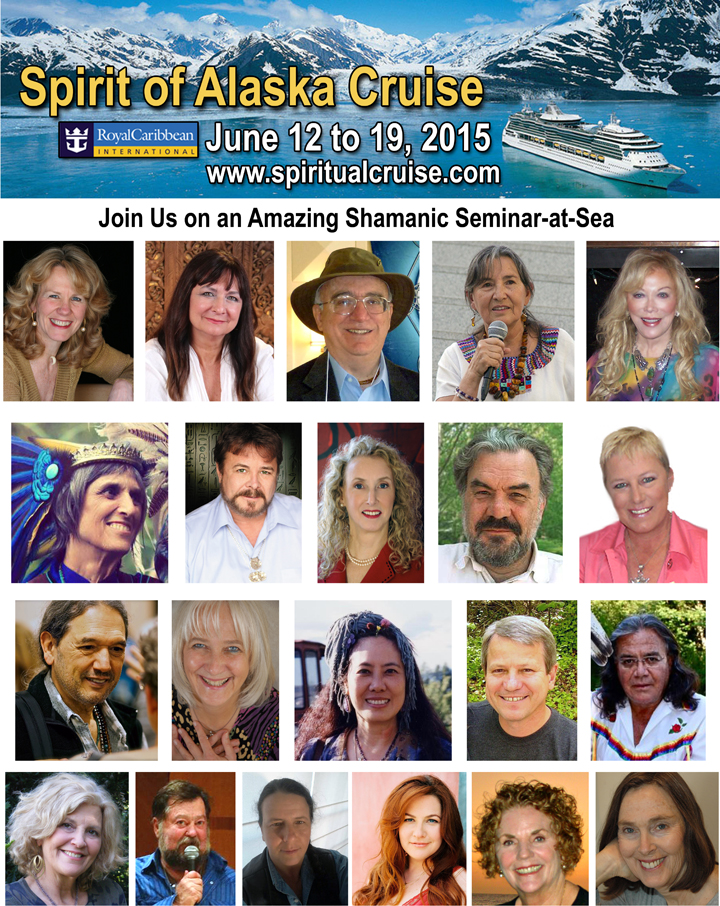 To book your trip, please visit:
When you register, please make sure you enter my name, Nicki Scully, as a "Referral" on the registration form at spiritualityproducts.com
For more information, contact us at office (at) shamanicjourneys.com
Or contact: Shamanic Journeys, Ltd. PO Box 5025, Eugene, OR 97405 (541) 484-1099 Fax (541) 686-5960