Egyptian Mysteries Tour of Egypt
with
Indigo Rønlov & Nicki Scully
March 2014
The date, details and price of this tour to be determined.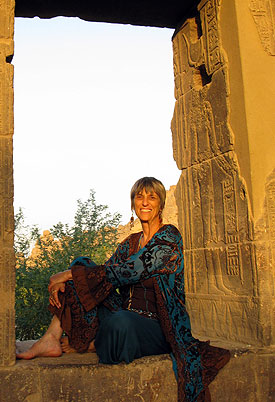 Nicki Scully has guided many hundreds of spiritual seekers through Egypt, while forging relationships with the family of the divine neteru, and also with the people of modern Egypt who care for us and guide us throughout our adventure. For more information about Nicki, see our staff page.
See some of our sacred travel testimonials and reviews…
Read what a traveler has to say after FOUR TRIPS TO EGYPT WITH SHAMANIC JOURNEYS!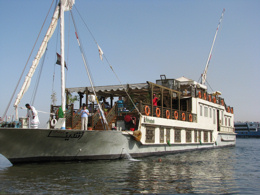 The Dahabeya Afandina
Greetings All—
The act of being in service to something greater than oneself opens a pathway from our head to our heart in a beautiful and profound way. Adding this service dimension to an already potent Egyptian Mysteries tour will bring us, the participants, through our individual alchemy to a planetary alchemy, which will allow us to focus on the healing of our precious world.
As a team of Sacred Warriors, we will be armed with joy, gloves, a stick with a nail, and a desire to express gratitude to this amazing country, cleaning up the litter in and around some of the sacred monuments of Egypt. We will partner with locals, ideally teachers and middle-school age children, who will join in our efforts.
As in much of Africa, single use plastic has become epidemic to the landscape, ecological health, and culture of Egypt. Plastic is so prevalent in the world today it is as if humanity was never able to function without it. It is true that it has served us in many, many ways, yet our excessive consumption of plastic products comes at great cost. Beyond the visual impact of garbage littered about the landscape, there are, in fact, a number of heath consequences from discarded plastic in the environment.
This service tour will offer the same high caliber expected of Shamanic Journeys, Ltd. As we sail the Nile on our private dahabeya we will explore the Egyptian Mysteries. Several private temple visits without the bustle of tourists will provide essential opportunities for contemplation and reflection on the marvels and magic of Egypt and our group alchemy.
It is our hope that the children and others who witness and participate in our clean-up efforts will learn to take pride in the land which sustains them, as well as the monuments that bring economic benefit via tourists who come from around the world to witness their splendor.
We are hoping to include at least one workshop where we teach these children and their teachers how to recycle the plastic as yarns to create art and utilitarian commodities such as carpets and re-useable bags. Additionally, we can offer what we know about plastic and its many effects on the environment. This is still in the planning stage, and will possibly be offered as an optional extension to the trip. I plan to spend the month of December laying the groundwork so that we can gracefully combine our service with our spiritual quest and endeavors.
We hope you will join us on this special journey. More details will be on the website as the exact itinerary develops.
In gratitude, Indigo
The date, details and price of this tour to be determined.
Please read this important travel information:
For more information E-Mail us at office (at) shamanicjourneys.com
Or contact: Shamanic Journeys, Ltd. PO Box 5025, Eugene, OR 97405 (800) 937-2991 or (541) 484-1099 Fax (541) 686-5960