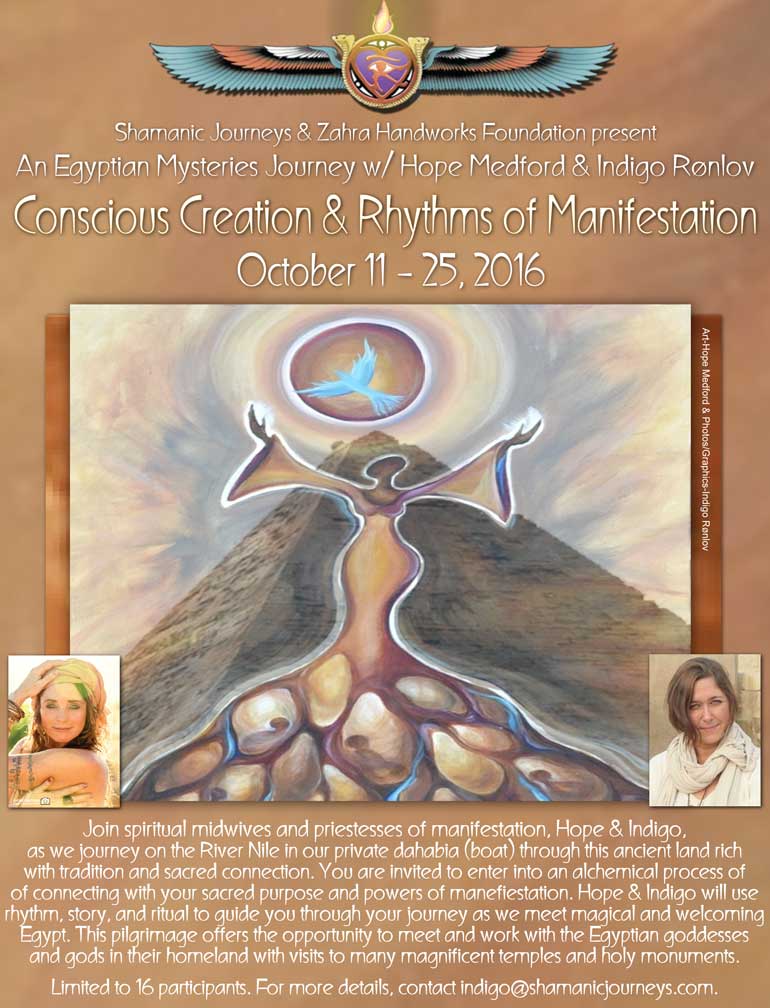 Conscious Creation and Rhythms of Manifestation
with Indigo Rønlov & Hope Medford
October 11 - 25, 2016

Rev. Indigo Rønlov M. A.received her master's degree in Ecopsychology from Naropa University, is a lineage holder in the tradition of Thoth, a priestess dedicated to serving Ma'at, and a Minister of Walking Prayer with the Center for Sacred Studies. She is a student, practitioner, and teacher of Alchemical Healing and the Egyptian Mysteries. Additionally, she bring deep shamanic experience, herbal studies, past life regression, and much more to her medicine bag. She has been working with Nicki Scully and Normandi Ellis on tours to Egypt and during retreats for over ten years, and now teaches classes and leads tours of her own. It is Indigo's intention to live life in service to the healing of our planet and all who reside here. More about her can be found on her website: Sacred Witness.
Indigo's many trips to Egypt inspired her to developed The Zahra Foundation. She is dedicated to be in service to share with woman and youth about the value of handwork, especially when items are created from reclaimed and recycled materials. Working with the challenges of ubiquitous plastic waste has already made a difference for those with whom she has shared. The Zahra Foundation is a 501c3 non-profit—all donations are tax deductible.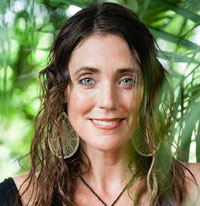 Hope Medford has always been involved in the healing and creative arts, from visual arts and music, to sustainability education and community health.
Music: The hand drummer for world roots rock band, Medicine for the People (Nahko.com) since 2007, Hope has been playing percussion for almost twenty years. Her first teacher was Babatunde Olatunje, and she has studied with master drummers in West Africa, Peru and Brazil. She is honored to use indigenous instruments on a modern stage. Hope has also facilitated drum circles and taught rhythm classes to over 2,500 participants.
Art: Hope has been painting since childhood. She studied art at the university level, and has held many solo shows of her work. She often combines rich color and lines, poetry, and textures of natural earth elements to tell the story of her journeys and create worlds seen through her dreams, travels, and visions. Her new works feature multi cultural wise women.
Social Projects : Hope was a founding board member of Tryon Life Comunity Farm, an environmental education center in Portland, Oregon. She co-created their education program, which includes permaculture, natural building, sustainable energy and social justice. Hope is a board member of Honor the Earth, an indigenous environmental justice project, working alongside the Indigo Girls and Winona LaDuke. Hope has trained and worked as midwife and doula, a graduate of the National College of Midwifery, and has attended over 400 births in the U.S., Indonesia, and Africa, where Hope worked at a village birth center with the African Birth Collective. Her approach to birth has always been natural and holistic, focused on out of hospital care. Her specialties have included massage, nutrition, alternative modalities, and waterbirth~ rich with experience from having practiced at the first water birth center in the United States, Andaluz Waterbirth Center. She has also supported many families who needed a hospital birth, as their doula, and thus has witnessed many of the pros and cons of the modern hospital system from the inside. This has inspired her to work harder to educate and raise awareness of healthy women as to their options from their own health and growing families thus Hope began Artemis Healing Arts education program and has taught natural birth classes in Peru and Brazil as well as in the US.
---
See some of our sacred travel testimonials and reviews…
Read what a traveler has to say after FOUR TRIPS TO EGYPT WITH SHAMANIC JOURNEYS!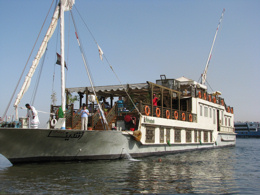 The Dahabeya Afandina
Your cultural & spiritual guides, Indigo and Hope, will use music and rhythm, story and ritual to guide you with intention through your divine inner journey as well as the outer landscape of Egypt, meeting the people of the present and the goddesses and gods of old. In addition to sacred time spent in the temples and monuments, we will have the opportunity to meet with local musicians to engage in musical cross-cultural collaboration. As we, together with those who are called to join us, co-create this sacred passage, we will deepen our understanding of who we are, what we are here to do, and our place within the history of humanity's evolving spirit. We will enter into a rich archetypal process that will reconnect you with your sacred purpose.
Indigo and Hope will bring you along the River Nile, through this ancient Egyptian land, rich with tradition and sacred connection. The temples and monuments of Egypt have an amazing capacity to evoke powerful experiences for any person who enters with an open heart and desire to comprehend the deeper meanings and intentions magically infused by the adepts who built them so very long ago.
You will be offered the opportunity to meet and work with the Egyptian pantheon in their homeland while spending 4 nights in Cairo at the Mena House hotel at the foot of the Great Pyramid and 9 nights aboard our luxurious dahabeya (boat) traveling on the Nile between Aswan and Luxor with plenty of opportunity to make music while we sail. This tour includes 3 amazing private visits: to the Sphinx at Sunrise, to the Temple of Isis at Philae, and inside the Great Pyramid at night. These special visits allow us to experience initiations and rites of passage not available to the public.
We look forward to inspiring you on this transformational journey of manifestation as we connect into the wisdom of a time when universal consciousness was as expansive and as unlimited as our true potential. We look forward to co-creating this spiritual, magical, and musical adventure of a lifetime! Now is the time. We are the ones we have been waiting for!
This trip is limited to 16 participants. Please register your interest here to receive more details, an application, and pricing.
Please read this important travel information: