Shamanic Journeys, Ltd presents
an Egyptian Mysteries Pilgrimage
Walking with Ma'at and Thoth
with Indigo Rønlov and Sandy Corcoran
September 11-24, 2018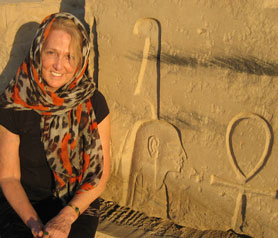 Sandy Corcoran, M.Ed, CDD, AOBTA is an integrative coach, shamanic teacher and indigenously trained dream decoder. She is the author of Shamanic Awakening, the recent meditative CD compilation Souled Out, and co-created the STAR Process™; a spirit retrieval modality in 1991.
Trained by indigenous wisdom-keepers for 35 years, she is a ceremonialist, certified Seneca Wolf Clan teacher, 4th level paq'o in the Andean Mystical Tradition, and an initiated priestess of the Sisters of the Violet Flame. She has taught throughout the Americas, England, Ireland, Italy, France and Egypt. Sandy is a contactee who worked with the late Dr. John Mack and Roberta Colasanti, and whose unique case was taken by them for referencing to the Human Subject Committee at the Harvard Medical School.
She has given numerous radio interviews and has had articles published in a variety of publications spanning topics from the mystical, to the dreamtime, to healthcare design trends. She has given Thoth Tarot readings internationally for 30 years. See her website for private sessions, readings, workshops and yearly international journeys: www.starwalkervisions.com
---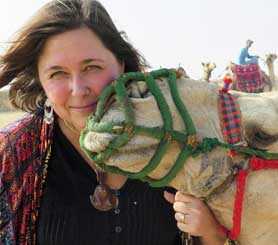 Rev. Kristin Indigo Rønlov M.A. received her master's degree in Ecopsychology from Naropa University, is a member of the lineage of Thoth held by Nicki Scully, and is a Minister of Walking Prayer with the Center for Sacred Studies. She is a teacher of the Egyptian Mysteries and a tour leader offering sacred pilgrimages to Egypt with Shamanic Journeys, Ltd. This will be her 12th trip to Egypt. As a priestess dedicated to serving Ma'at, goddess of cosmic order, justice, and harmony, she is committed to seeking and personifying Truth. Indigo is a student, practitioner, and teacher of the comprehensive healing art form, Alchemical Healing. Additionally, she brings deep shamanic experience, herbal studies, reiki, past life regression, and more to her medicine bag. It is Indigo's intention to live life in service to the health of our planet and all who reside here, and in this she has discovered something quite profound and rewarding.
Indigo's many trips in Egypt inspired her to develop the Zahra Handworks Foundation. Zahra is dedicated to sharing the value of handwork, especially when creating from reclaimed and recycled materials. Indigo's work with Zahra has already made a difference for those with whom she has shared in Egypt, including a loom recently installed in a new handwork center in Bahariya Oasis. Zahra Handworks Foundation is a 501c3 non-profit organization and is grateful for your interest and donations. More about Zahra can be found at Zahra Handworks Foundation and on facebook.
---
See some of our sacred travel testimonials and reviews…
Read what a traveler has to say after FOUR TRIPS TO EGYPT WITH SHAMANIC JOURNEYS!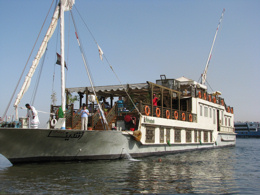 The Dahabeya Afandina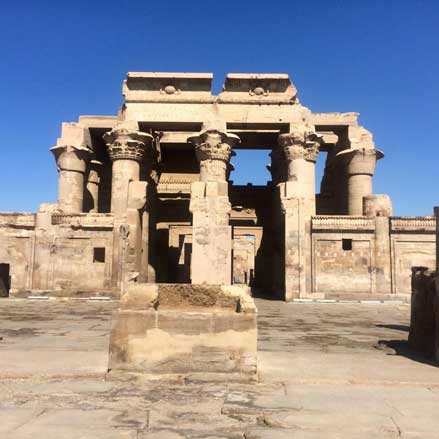 Sandy Corcoran and Indigo Rønlov are delighted to offer this exceptional Egyptian Mysteries pilgrimage, to connect you to the powers of the living spirits of this ancient land.
Our pilgrimage promises to be a shared, intentional adventure into the ancient land of Egypt, [Kemet], using the pantheon of the Neteru and their spiritual teachings; teachings still relevant for personal transformation today. Each pilgrim will be provided opportunities to experience both guided and individual, collective and personal magical moments, as we get to know the sacred sites on our itinerary, empowered by the adepts that built them and the neter that imbue them, waiting to share their wisdom and boundless love.
This tour package includes the following: four nights in Giza within view of the great pyramids; two nights in Fayum, and seven nights aboard our beautiful dahabeya Afandina as we sail along the River Nile; visits to many ancient temples that include special private visits to select sacred sites; most meals; all travel within Egypt; teachings from Sandy and Indigo; and more.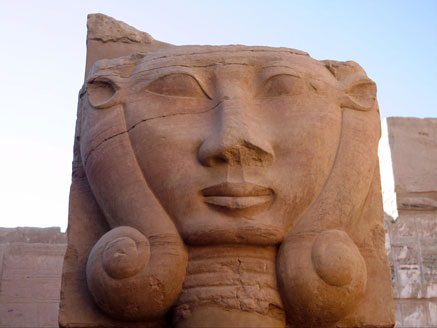 We will bring specific attention to and focus our work on Ma'at and Tehuti (Thoth). Ma'at is the personification of the natural laws of all existence, embodying the cosmic order of truth, harmony, and justice. She is the foundation upon which the neteru stand. Tehuti is the lunar god of wisdom; a master teacher and scribe, who is the who records all significant events both personal and planetary,
During this pilgrimage we traverse our outer and inner landscape calling on Ma'at, who has the ability to awaken our divine truth, and Tehuti (Thoth) who helps guide us to understand the workings of our heart. We will offer many opportunities to record our individual soul's accounting as a record for our remembrance, through the use of shadow work, dreams, oracular cards, guided meditation, ritual work, and writing/journaling, as we move through the ancient landscape and temples of Egypt.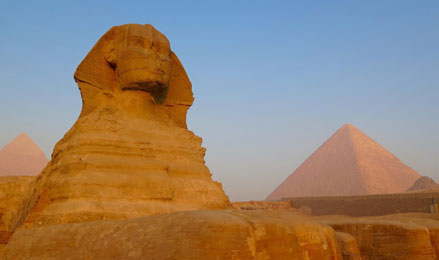 The intricately carved, colored stone monuments and temples still hold the empowered intentions of the adepts who built and consecrated them. The ancient carvings of the neteru hold their ka, their spiritual energy, and become potent allies ready to share their wisdom, love, and guidance with the intentional seekers who have come to visit these sites over millennia. In addition, we also get to experience the beauty and warmth of the Egyptian people everywhere we go.
We welcome up to 16 participants to join us for this trip of a lifetime. To receive registration information for this tour, please request your Registration Information below and we will email you everything you will need to join this special pilgrimage.
Please read this important travel information: