Visionary Pilgrimage
to Egypt and Jordan
with
Martina Hoffmann
& Nicki Scully
March 18 – April 1, 2013
Optional Jordan Extension April 1 - 6
Nicki is transitioning to co-leading semi-private chartered groups on the Afandina and arranging tours for other teachers. Her co-leader on this first private charter is the great visionary artist Martina Hoffman, and she is permitting us to invite a few participants from Nicki's list. Please contact Nicki only if you are familiar with Martina's work and have either studied with her before or know that you would like to share in this extra-ordinary adventure. We will be turning our dahabeya into a painting studio as we sail the Nile.
If you are interested in this tour, please click here to register your interest. When you register, please leave your phone number and/or Skype address with your inquiry, along with your email and time zone. You can also email our office at office@shamanicjourneys.com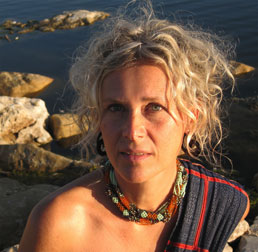 Martina Hoffmann works as a painter and sculptress and is considered one of the foremost contemporary female visionary artists. Her paintings offer the viewer a detailed glimpse into her inner landscapes - imagery that has been inspired by expanded states of consciousness: the realms of the imagination, meditation, shamanic journeys and the dream state, with the Sacred feminine as a central theme.
See martinahoffmann.com for more…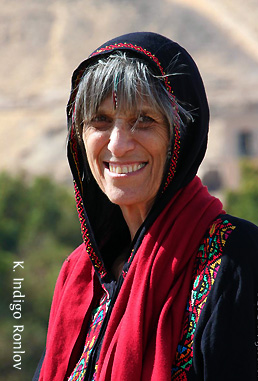 Nicki Scully has guided many hundreds of spiritual seekers through Egypt, while forging relationships with the family of the divine neteru, and also with the people of modern Egypt who care for us and guide us throughout our adventure. For more information about Nicki, see our staff page.
"Let us play together in the realms of dream, art and mystery and prepare for the birth of a powerful new self and global consciousness."
As I'm commemorating the 11th month of my beloved Robert's transition, I'm now also preparing to move from a chrysalis state to unfolding my wings and take flight into a new life. These past long months have taken me on a powerful and deeply transformative journey towards creating a brand-new existence for myself.
It has been a very silent and introspective time, during which I've been mostly focused on the realms of my inner landscapes, a solitary walk through the shadows of what has been a beautiful 30 years of profound love and partnership. And as I'm listening to the echoes of this magical dream about times past, I hear Robert's voice encouraging me to create a new song and a harmonic melody to be sung by my own voice and those around me.
Synchronicity and perfect flow has brought me this gracious invitation, extended by my dear friend, Nicki Scully, to co-host a once-in-a-lifetime trip into the mysteries of Egypt. And this couldn't be more timely, as all of us will be ready to turn a fresh page in Spring of 2013 and allow for new personal and planetary beginnings.
Through ceremonial/shamanic traveling we'll be opening up to the great mysteries for guidance and inspiration. Through artistic explorations we'll be re-membering the magic in our lives and the unlimited creativity that Source Energy has endowed us with. Together we'll be facing a blank canvas, metaphorically as well as in actuality and fill it with images of deep knowing, trust and loving certainty of our divine nature. This is the secret and journey of the artist, who treats the gift of creation as a daily opportunity to invite the unexpected, the new and all that the universe has in store for us.
On our shared journey to this ancient land, we hope to discover renewed clarity, physical, emotional and spiritual strength together. We'll be opening ourselves to leaving our shadows behind, cleanse out the old and allow for bright healing light to rise and flood every cell of our body and fill our hearts with hope, joy and excitement.
Let us play together in the realms of dream, art and mystery and prepare for the birth of a powerful new self and global consciousness.
I'm deeply grateful for this opportunity to share this journey with you.
—Martina Hoffmann
On the practical side, just to whet your interest further, here are some links to the hotel where we will be staying and to a video about the Afandina, the private dahabeya (traditional Egyptian boat) on which we will sail the Nile:
Please contact Nicki at (541) 484-1099 or email office@shamanicjourneys.com if you are interested in joining this private tour.
For more information or to register for this tour: E-Mail us at office@shamanicjourneys.com
Please read this important travel information:
Tour Pricing
now=1342667167 disc=1346482800
The price of the Egypt tour is $6988, including international and domestic Egypt flights. The price of the entire package, including Jordan and the flight to Jordan if you are on the same EgyptAir ticket, is $8888. If you choose to do your own international ticketing, there will be a $400 supplement for the Jordan ticket. otherwise, the land only cost for Egypt is $6288.
Because of the lateness of these bookings, it would be best to send the entire amount. If you need to special arrangements, pleace contact the office.
For our cancellation policy, please see our Terms and Conditions.
Please register early, as Egypt is a popular destination and accommodations must be arranged well in advance. Space is limited. Tour costs are based on a minimum of 16 participants, double occupancy, and are subject to change. All prices in US dollars.
It is recommended that you obtain trip insurance. See our trip insurance page for more information.
PLEASE NOTE: In the event unexpected Hotel or Airline surcharges exceed our contingency budget these extra charges may be added to the tour cost.
Detailed information including terms, conditions, responsibilities and a packing and book list will be sent upon receipt of your deposit. Deposits must be paid by cash or check. Please send checks and make payable to: Shamanic Journeys, Ltd., PO Box 5025, Eugene, OR 97405. For further information, e-mail us.
For more information or to register for this tour: E-Mail us at office@shamanicjourneys.com
Or contact: Shamanic Journeys, Ltd. PO Box 5025, Eugene, OR 97405 (800) 937-2991 or (541) 484-1099 Fax (541) 686-5960