Shamanic Journeys, Ltd presents an Egyptian Mysteries Pilgrimage
With Normandi Ellis and Indigo Rønlov
February 22 - March 7, 2018
Normandi Ellis is an Arch-priestess of the Fellowship of Isis, a clairvoyant Spiritualist minister and an internationally known teacher. She is the author of 13 books, most notably the spiritual classic Awakening Osiris, based on the hieroglyphic text of the Egyptian Book of the Dead. For over 25 years Awakening Osiris has been a touchstone of the spiritual tourist through Egypt and was described as an essential text for the spiritual pilgrim. Her other works in the Egyptian mystical tradition include Dreams of Isis: A Woman's Spiritual Sojourn, Feasts of Light: Celebrations for the Seasons of Life based on the Egyptian Mysteries, Invoking the Scribes of Ancient Egypt, Imagining the World Into Existence: A Manual of Ancient Egyptian Consciousness (with Gloria Taylor Brown) and her original Egyptian hymns collected in Words on Water. Her most recent book with Nicki Scully is The Union of Isis and Thoth: The Initiatory Practices of Ancient Egypt.
A sought after teacher of the mysteries, she also teaches as creative writing, having received advanced degrees for her creative work and journalism. Her award-winning fiction includes Sorrowful Mysteries and other Stories, Voice Forms, Going West and Fresh Fleshed Sisters. She is the recipient of writing fellowships, including those from The Kentucky Foundation for Women and the Kentucky and Colorado Arts councils.
Normandi is a Spiritualist minister and certified medium missionary through the Indiana Association of Spiritualists. She teaches in the Metaphysical School at Camp Chesterfield (Indiana) and offers clairvoyant circles private consultations on the phone or in person, and online classes.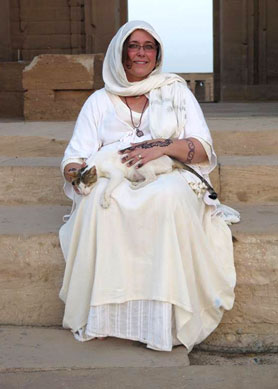 Rev. Kristin Indigo Rønlov M.A. received her master's degree in Ecopsychology from Naropa University and is a Minister of Walking Prayer with the Center for Sacred Studies. She is a teacher of the Egyptian Mysteries, a tour leader offering sacred pilgrimages to Egypt with Shamanic Journeys, Ltd., and a lineage holder in the tradition of Thoth with Nicki Scully. As a priestess dedicated to serving Ma'at, goddess of natural law, she is committed to understanding truth. Indigo is a student, practitioner, and teacher of the healing art form of Alchemical Healing. Additionally, she brings a deep shamanic experience, herbal studies, reiki, past life regression, and more to her medicine bag. It is Indigo's intention to live life in service to the health of our planet and all who reside here, and in this she has discovered something quite profound and rewarding. sacredwitness.us
Indigo's initial trips in Egypt inspired her to develop the Zahra Handworks Foundation. Zahra is dedicated to sharing the value of handwork, especially when creating from reclaimed and recycled materials. Indigo's work with Zahra has already made a difference for those with whom she has shared in Egypt, including a loom recently installed in a new handwork center in Bahariya Oasis and another loom in production to be installed in March. Zahra Handworks Foundation is a 501c3 non-profit organization and is grateful for your interest and donations. More soon-to-be-updated information about Zahra can be found at Zahra Handworks Foundation and on facebook.
---
See some of our sacred travel testimonials and reviews…
Read what a traveler has to say after FOUR TRIPS TO EGYPT WITH SHAMANIC JOURNEYS!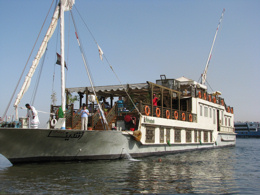 The Dahabeya Afandina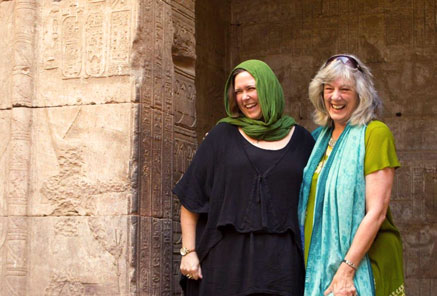 Join Normandi Ellis and Indigo Rønlov on this special journey to Egypt, where we will go Off the Beaten Path and Through the Layers of Time. For both Normandi and Indigo, this is a very exciting and special trip. We will visit some of our favorite places, where the gods and goddesses can still be so strongly felt, and we will also travel to some places that many travelers have never been before -- even a couple of places Normandi and Indigo have never seen!
We will have the opportunity to meet ancient whales from a time when the oceans covered the sands as well as visit many beautiful sacred sites and temples, churches and mosques while meeting modern and thriving Egypt. This journey will offer you a wonderful opportunity to see some of the lesser known monuments such as a private visit to the Sun Temple of Abu Ghorab, Medinet Habu, the Valley of the Queens, the Precinct of Mut, Kalabsha Temple, The Valley of the Whales, a day touring the churches and mosques of Old Cairo, and more.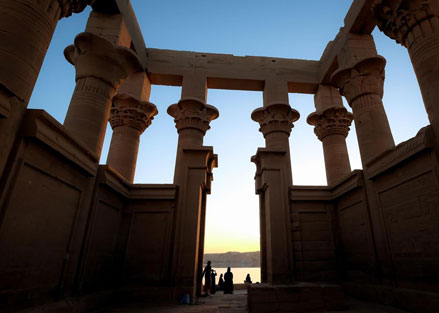 This tour package also includes four nights in Cairo at Lé Meridian with views of the Great Pyramids, nine nights aboard our beautiful dahabeya Afandina as we sail along the River Nile, visits to many ancient temples that include special private visits to select sacred sites; most meals; all travel within Egypt, and teachings from Normandi and Indigo.
Normandi Ellis has been working with Egypt, its mysteries, its magical language, beautiful gods and goddesses, splendid guides and guardians of the netherworld for the last 30 years. This is a life's work that she really wants to share you. So many people have said to her over the years, "If I am going to go to Egypt with any one, Normandi, it's going to be you." That gives her such inspiration, hope, peace and the knowing that the last 30 years her energy has been in the right direction by doing this deeply spiritual work. If indeed you want to come to Egypt with Normandi, this February 2018 tour is your time to join her. This will be her last publicized tour to Egypt.
We welcome up to 18 participants to join us for this trip of a lifetime. To receive registration information for this tour, please request your Registration Information Here and we will email you everything you will need to join this special pilgrimage.
Please read this important travel information: