Private Sessions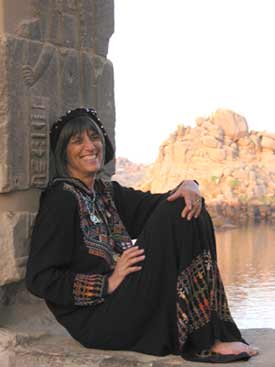 Alchemical Healing is a comprehensive healing form created by Nicki Scully during more than 20 years of research. In her groundbreaking book, Alchemical Healing, a Guide to Spiritual, Physical, and Transformational Medicine (Bear & Co.), this form is described in detail and the reader is guided through empowerments and clear instruction in order to practice healing on themselves and others. Powerful Alchemical Healing techniques weave spirit and matter, develop communications between divinity and humanity, transform experience into wisdom, and skillfully influence physical reality to achieve healing and transformation. Alchemical Healing permits entry into the magical realms of intuition and limitless knowledge. Through Alchemical Healing we consciously enter infinite depths from which we bring forth and translate our magical experience into effective healing action.
Listen to a recent broadcast interview with Nicki where she explains and demonstrates Alchemical Healing
Special Limited-Time Offer
$100 for 1-hour session,
$85 for 1/2-hour
Contact Nicki to set up your private session.
Available in person by phone or Skype, the sessions can include physical healing and spiritual and shamanic counseling, and are based on the work in Nicki's book. Nicki is known for her deep and transformative sessions in which she artfully engages the person in his or her healing process. Regardless of the depth of the problem or the difficulty of the challenge, Nicki finds tools in her vast medicine bag of techniques and processes that bring relief and provide opportunity for continued healing beyond the immediate session.
Nicki is available for a limited number of sessions whenever she is at home. Generally the first session runs about an hour or a bit more, and is $160. Subsequent sessions when desired or needed are $140, 1/2-hour return session is $75. (If cost is a hardship, call to see if arrangements can be made.) Nicki's aim in this work is to catalyze as much immediate relief as possible, and to give tools to each person so that they can continue the work on their own following their session.
We're offering a special on private phone sessions for the month of June: $125 for the first session and $100 for those who've had a session with Nicki before. Contact the office by email or call 541-484-1099 if you want to book a session.
Anubis Oracle Readings
Nicki is now offering in-depth one-on-one readings so that your questions can be addressed more personally. We can use any of the eight Anubis Oracle spreads, or simply pull cards and converse with them that way. These private readings are available now at an introductory rate of $100 for a 30-minute session, one hour for $160, and a 1½ hour session is $200. We will do couples spreads within the same rate schedule. Online purchase is available at Hathor's Mirror or contact us at office(at)shamanicjourneys.com or call 541-484-1099. Nicki also offers private Alchemical Healing and Shamanic Consulting sessions. To learn more about these, see above.
Email office (at) shamanicjourneys.com or (541) 484-1099. Our office hours are 9AM to 3:30PM Pacific time Monday through Friday.
Other special interests
I'm working with some new Alchemical Healing processes that I'm eager to explore further. Some of the topics include: Dealing with environmental toxins and heavy metal exposures, and pain management. Transforming fear—fear seems to be at the root of many of our current problems.
Free Alchemical Healing Circle
Note: The Alchemical Healing Circle will be suspended for the Holiday season.
The first Wednesday of each month, we are holding a free Alchemical Healing Circle with Liisa Korpela at Nicki's home in Eugene, Oregon. For those of you who have never heard of Alchemical Healing please come early at 6:30pm for the introduction. The circle will be from 7:00 PM to 9:00 PM Everyone is welcome, but space is limited so please register with the office. Attending this circle would be of benefit if you are:
You would like to witness and experience this unique form of energetic healing. Alchemical Healing offers a creative set of shamanic tools, which align well with all types of healing modalities.
You are new to the healing arts and are interested in finding out about different forms.
You are looking for a way to assist your own healing with a particular illness, injury or emotional situation.
You have had training in the art of Alchemical Healing and would like to practice your skills.
You or someone you know is in need of some healing. Please email to sign up for a time slot.
This circle will be hosted by Alchemical Healing teacher Liisa Korpela and other Alchemical Healing Practitioners. All have undergone extensive training with Nicki Scully. They each offer their own special focus through Alchemical Healing.
To register or for more information, please contact the office by email, or call during our office hours of 10AM to 4PM Pacific time at 541-484-1099.
Private tutoring support for students of Alchemical Healing
Nicki will be offering private sessions in various aspects of the Alchemical Healing toolbox. If you wish to receive empowerments from the book and can't get to where classes are being offered, Nicki is making time to work with a few individuals by phone to assist in their progress and provide the initiation rites. Her Alchemical Healing phone bridge classes will start again in the beginning of the year.
To learn more about what these sessions offer and to make an appointment please call during our office hours at (541)484-1099. Or send our office an email.
More about Alchemical Healing
During this volatile time, the principles of alchemy offer effective tools to thwart our apocalyptic bent. The classical arcane goal of turning lead into gold is an apt metaphor for the transformation we require now, both personally and globally. How can we enlighten the lead of depression, fear and despair that holds so many people hostage? By what methods can we turn the pandemic of environmentally based diseases into opportunities for a healthier and more fulfilled future? Whether responding to global issues or specific personal needs—whether for physical healing or for spiritual growth and development, our inherent ability to recognize and utilize available intelligence is often underestimated and overlooked.
Alchemy is the process of turning the base substance of who we are—the dark mystery of our subconscious—into the alchemical gold of knowledge and enlightenment. Like carbon that undergoes tremendous amounts of heat and pressure in order to become a clear, hard, exquisite diamond, we master our lives and achieve clarity and brilliance through the management of pressure and our adversarial conditions. Modern alchemy is emerging as one of the most powerful tools for transforming our reality, and Alchemical Healing, the comprehensive form developed by Nicki Scully, is an important vehicle for those who would heal themselves, and others.
Focus on Cancer
I am currently very interested in helping stem the pandemic of cancer. I feel a deep commitment to share with others what I have learned from my own breast cancer experience 15 years ago, and from working with others over the years since. My husband, Mark Hallert, the true visionary of the family who helped me through my intense treatment, will take a limited number of clients who are preparing for, or looking for support during their chemotherapy treatments. Please email or call for an appointment.
Please join us on our free Bridge for Healing Cancer.
See the classes page for more information about Alchemical Healing and related subjects.