---
---
I would like to introduce you to our guest facilitator Dr. Mary Lee LaBay Ph.D. She is a psychologist and hypnotherapist based in Bellevue, Washington.
Past Lives and Healing the Mother Daugher Relationship:
A Surprising Twist to the Spiritual Connection Between Us,
by Mary Lee LaBay, Ph.D.
Do you have issues that need to be resolved with your mother? Is something blocking your communication with her?
In this recent case, we discovered evidence of the spiritual connection between all of us, while creating an opening to better communication and a smoother relationship between a mother and a daughter.
My client, Jann, in her early 50's, stated that she was afraid to confront her mother about how the mother was treating her and her sister. She felt that if she honestly expressed herself to her mother, she may be rejected and lose the mother's love. Her mother had always seemed distant and her love conditional. During a recent visit from her mother, the issue had become intolerable, and Jann was angry with herself for not having the courage to confront her mother.
During the session, we explored several aspects of these feelings, allowing Jann to better understand the situation and her own responses. Then, we moved to Chair Therapy, a technique that allows the client to experience an open and non-threatening conversation with the other party. During that experience, Jann's imagination revealed to her a "monster" that was protecting her mother. It would roar and try to attack anyone who attempted to draw too close. She then noticed that her mother appeared to be a baby curled up inside the monster that was protecting her.
Investigating this vision, it became apparent that something very traumatic happened to Jann's mother during a past life that left a lasting impression on her soul. The monster had been instituted at that time as a protective device. Without the opportunity for intervening therapy, or other relief from the shock of the past life trauma, this protective response had remained in place, even when it was no longer necessary.
(read the rest of Mary Lee LaBay's article on ShamanicJourneys.com…)
---
August 1 ~ 9, 2009, Eugene, Oregon
Participants who enroll in our intensive summer retreat will be guests at my home for nine days of immersion into the Alchemical Healing form. During our time together, you will become comfortable and confident in practicing Alchemical Healing and will be able to integrate many of the advanced practices into your life and your healing work. You will also experience the new edge of Alchemical Healing as it has come into the form since the book was published.
Register Online at Hathor's Mirror
---
Gloria Taylor Brown is one of my closest friends and the chief visionary for the Becoming an Oracle program. You can find out more about Gloria at gloriatylorbrown.com
Events with Gloria Taylor Brown:
A Voice for Spirit Live in Seattle

July 24, 6:30-8pm, Free
Join Gloria Taylor Brown for an in person presentation in the Fremont district of Seattle.
Becoming An Oracle Introductory Workshop, Seattle

July 25, 1-4pm, $35
We will explore Tarot and crystal scrying as tools as well as hear journeys from the new Becoming an Oracle Program.
Both events will be held at Center Peace Healing, which is located at the Community Healing building at 760 No. 34th St. Seattle, WA in Fremont. You can register online at shop.avoiceforspirit.com or call Gloria at 206/310-3664 or Karah at 206/794-7231.
---
August 19 ~ 23, 2009, Eugene, Oregon
Our Becoming an Oracle Retreat is more than a workshop—it is a pilgrimage during which we will explore ancient and modern oracular technology, with particular focus on ceremonies and initiations that heighten your intuitive senses and bring you into alignment with truth, harmony and your inherent divinity. As you discover your innate oracular abilities, you will learn to find answers to life's challenges for yourself, for others, and for the Earth. During this unique spiritual adventure you will receive initiations into a number of oracular traditions, and begin to familiarize yourself with divination tools such as runes, tarot, palmistry, crystal gazing and scrying. We begin and end in Egypt, and in between we will visit cultures from the audio program, and others that we were unable to fit into the published course. The Anubis Oracle (written by Nicki and Linda Star Wolf, and illustrated by Kris Waldherr), will be one of the primary oracular tools that we will consult and learn about during this retreat. The Anubis Oracle introduces us to the archetypal deities and elemental spirits from the Egyptian pantheon that have come forward to assist us on our journey of transformation and renewal.
The retreat will be held at the Lyceum of Shamanic Egypt, the healing center maintained at Nicki's home, a magical sanctuary in the hills on the edge of Eugene, Oregon. The retreat begins the evening of August 19 and continues through the evening of August 23.
Visit becominganoracle.com for more about the 7-CD set, Becoming an Oracle (published by Sounds True) and a sample journey.
Registration and more details on Hathor's Mirror
---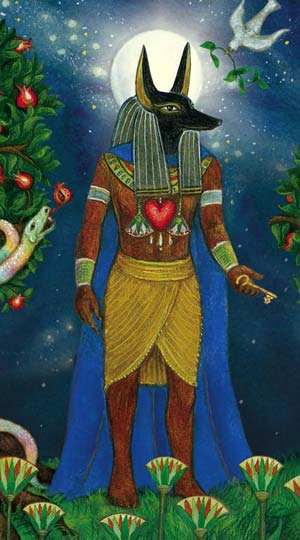 November 6 - 21, 2009
Please join me for this extraordinary pilgrimage to explore the ancient mysteries of Egypt. I've got something new to share with you. After a 30-year love affair with that majestic, magical place, returning again and again to quest for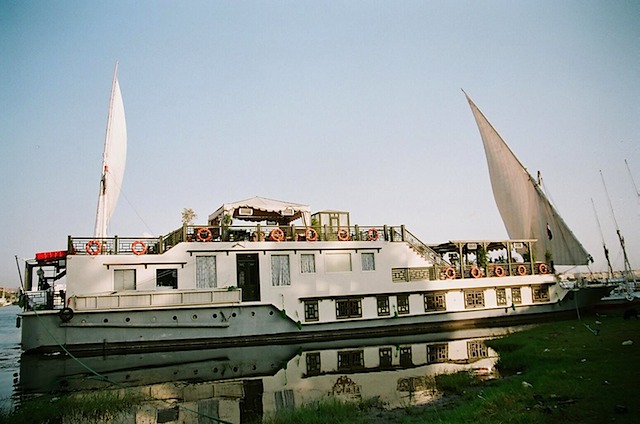 The Dahabeya Afandinadirect experience and articulation, I've somehow reached a new level of perception of the layers of myth and meaning through which ancient Egypt speaks to us. I have also found new ways to immerse you even more deeply in the mysteries and spirit of ancient Egypt. The keys have been unlocked; the way prepared. Anubis, Thoth, Isis, and Sekhmet are among many others in the revered pantheon who will be our true guides as we explore the temples and monuments that still reverberate the intentions of the magician/priesthood that built them.
More Information, Pricing and Itinerary on ShamanicJourneys.com
---
Please join me as we enter into this powerful healing ritual together, creating a circle in space around the world. Whether you are dealing with cancer directly, or wishing to support a friend or loved one who is engaged in this struggle, this unique way of healing cancer is an opportunity to be proactive and utilize the exponential power of our numbers and the sacred geometric properties of the parabola that we create together.
For more information, click here.
To register for the call, click here.
---
For updated events and a full schedule, please go to our schedules page.
Shamanic Journeys, Ltd.
(541)484-1099
email: office@shamanicjourneys.com