---
---
Pilgrimage to Egypt with Nicki Scully and Dr. Joan Borysenko
with an optional excursion to Jordan & Petra
November 4 - 8, 2010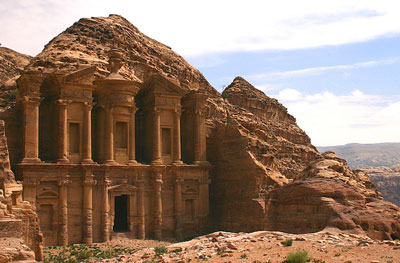 Please join Nicki Scully and Joan Borysenko, PhD for the Shamanic Journeys, Ltd. Autumn 2010 pilgrimage to Egypt.
This unique magical adventure brings two of the great spiritual teachers of our time together as they weave science, spirit, healing, and the shamanic magic of ancient Egypt into a transformational journey of a lifetime.
More information and detailed itinerary is available on this trip's web page.
Please sign up if you wish to let us know you're interested in going on this amazing journey.
---
A Love Affair Consummated
by Gloria Taylor Brown
When I went to Egypt last year, I fell in love. I related the story of this relationship and how it came to pass in an article last year, called My New Love Affair.
This year, I was delighted to take a group of pilgrims with me to Egypt to meet my new love.
When we left New York JFK Airport, I finally let myself relax a little bit. I had been holding my breath — figuratively speaking — for almost a year, hoping and praying that this tour would actually happen, and I would get to do what I had planned so long ago.
I was joined by dear friends Nicki Scully, Mark Hallert, Kathryn Ravenwood, and Normandi Ellis, one of my favorite writing teachers and Egyptian scholar extraordinaire, who came along as a co-leader. We left a few days early for the tour, so that we could take care of any business and jet-lag issues prior to the arrival of the rest of the tour.
Everything went off without a hitch, and soon all 19 members of our tour group were together in the shadow of the Pyramids. We saw the Great Pyramid, the Sphinx, and the Giza Plateau. And then we went to the building I had really come here to see, the boat museum, built for the Pharaoh's 4500 year old Boat of the Sun, after it had been resurrected just 20 years ago by a diligent group of archeologists, from where it had been buried beside the Great Pyramid those many years ago. A beautiful cedar planked boat, with high prow and stern, the boat was tied together with a rope that shrinks when it gets wet, tightening the planks into a secure and leak-proof vessel. A house on the center section of the boat allowed its passengers to remain cool in the hot sun. Propelled by oars, it was a capable and beautiful ship. I was delighted to show it to my friends, and to have them stare in awe at the size of this vessel from Ancient Egypt.
(Read the rest of the article here…)
---
The Temples of Light: An Initiatory Journey into the Heart-Teachings of the Egyptian Mystery Schools (Book & CD)

with a foreword by Nicki Scully
By Danielle Rama Hoffman,
A guide to the open-heart wisdom and secret rites of passage of thirteen sacred temples in Egypt.
Provides information on how to thrive as we move from the Piscean to the Aquarian age
Offers guided meditations and rituals that connect to the ancient power of the Flower of Life, the Djed Pillar, the Ka, the energy body, and more
Includes a 50-minute CD of a guided journey of the Sphinx
The Temples of Light guides the reader, as the initiate, on a spiritual journey through thirteen of Egypt's sacred temples—a journey into the sanctuary of the open heart. Each sacred site is a portal to ancient wisdom that can assist the modern-day pilgrim with everyday life issues and struggles—love, purpose, money, and health—and the deeper questions of enlightenment and our divine origin.
Danielle Rama Hoffman opens up sacred rites of passage that historically have been kept secret to forge a relationship with the temples of Egypt as allies and spirit guides. For example, the temple of Sakkara is associated with abundance; the temple of Abydos with remembering. The initiations in this book awaken intuition and the Sahu—the fully realized self—allowing connections to the power, magic, and wisdom of such sacred symbols as the Flower of Life, the Djed Pillar (the backbone of Osiris), the Ka, and the energy body. Hoffman's guided meditations, rituals, and exercises also raise the reader's vibration level, as we move from the Piscean to the Aquarian age. Embodying the wisdom of the open heart of these temples imparts a shift in consciousness from fear to bliss, from powerlessness to empowerment, opening the body, mind, and spirit to the infinite possibilities within. The book also includes a 50-minute CD of a guided journey of the Sphinx.
Purchase this award-winning book Tuesday, December 8, and receive exciting gifts valued at over $3000 from many respected transformational leaders, including a bonus from me. To take advantage of this special promotional offer, go to www.TheTemplesofLight.com/promotion.
---
Secrets of Manifestation Revealed to Awaken the Alchemist Within
We are excited to present a new anthology designed to demystify "Alchemy" and to shine a guiding light on your journey towards becoming a Modern Day Alchemist. To this end, Nicki Scully joined fourteen other alchemists who share a love of Egypt and have contributed a series of candid essays, encapsulating their years of devoted study and experience of Egypt, the Land of the Pharaohs where Alchemy began. Other authors include: Christian Bernard, Lynn Andrews, Leslie Temple-Thurston, Normandi Ellis, and Danielle Rama Hoffman.
Available for sale on Hathor's Mirror.
---
Wednesday, December 30- 6:00-7:00pm Pacific time
I've chosen December 30th for the next phone bridge for healing cancer. This special healing ceremony will include a new element to celebrate the New Year.
Our Bridge for Healing Cancer program presents phone bridge rituals conducted by Nicki Scully to heal and transform cancer. Whether you have cancer or want to assist and support those who are suffering from cancer, you are welcome to join our bridge. Participants from around the world meet by telephone for each bridge to practice an Alchemical Healing process during which we join together to create a vessel in the shape of a parabola. From this form, which is similar to a satellite dish, we receive potent healing energies and also transmit cancer cells outward in a safe and effective way. This is a free event.
Click here for more information about the Bridge for Healing Cancer
---
For updated events and a full schedule, please go to our schedules page.
Shamanic Journeys, Ltd.
(541)484-1099
email: office@shamanicjourneys.com