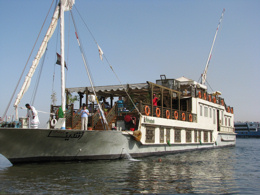 Many years ago, I fell in love with Egypt. My affair with this great love has survived many other lovers, three husbands and fifty years. This last November, I fell in love again. My new loves name is Afandina and she is beautiful. Her name means guardian spirit in Arabic.
I first saw her at a distance last year when we were in Aswan, in Upper Egypt. She was floating on the Nile, seductively beckoning. I was unable to get closer to her then, and had to be satisfied with dreams of her.
This year, at a time of crisis, Afandina came to our rescue and provided shelter when there was none. We were in Luxor, and had just finished a lovely four-day cruise down the Nile on the Sun Goddess. It was time to move to the five star hotel, the Sonesta St. George (another of my loves) for a 3-day stay. Hatum, our Quest Travel representative, was horrified to discover that due to construction problems, there was no room at the inn! What was he going to do with 45 pilgrims who were expecting deluxe accommodations? After much discussion, phone calls back and forth, he convinced the other tours at the St. George to consolidate their single rooms into doubles, and the St. George managed to find room for 30 pilgrims. 30! We were 45 – where were the rest to sleep – there was no rooms available anywhere in Luxor!
However, Hatum, like the magic genie that he resembles, knew that he had resources beyond the normal. And so he called on Afandina, that she might shelter his poor homeless pilgrims.
Afandina arrived at the St. George with little fanfare, and after some juggling for space, prepared to receive her guests. Her brightwork shining, her sails at rest; Nicki and I went aboard for the first time. It was truly love at first sight, at least for me. You see, Afandina is the new dhahabeya built by Mohamed Nazmy of Quest Travel to the absolute best marine standards.
Large enough to accommodate 16 comfortably, she happily housed our homeless pilgrims during their stay in Luxor. She is a true, luxury sailing yacht with a crew of nine.
I, however, was not one of them. Every morning, I would wake and look longingly at my boat from my fifth floor balcony at the lovely Afandina. Every evening, I would say goodnight with love in my heart.
We went for a sail on Afandina one afternoon as the sun set over the West Bank, on our way to our evening visit at Luxor Temple. It was a highlight of the tour.
For years I have used the visualization of a sail on the Nile as a way to go to sleep, no matter where I am. When insomnia strikes, I contact Thoth, the Egyptian God of Wisdom. I usually find him down by the river fishing, and ask him to take me for a boat ride. Sometimes, he uses a small boat that he poles through the reeds. Other times, when he has lessons to teach me, we sail on a beautiful riverboat with chanting oarsmen and an open, sunny deck, where we sit in luxurious chaises, sipping tea and chatting. This method works better than any sleeping pill, and I would soon drift off to sleep.
So, as Afandina sailed along in the sunset, it was truly a dream come true for me. A dream, regretfully that was cut all too short by our arrival back at the dock.
Why am I telling you all this? Because I want to go back and be with my love and I want to know if you would be interested in going with me.
I would like to take a very special group of pilgrims to Egypt, a group that would enjoy spending five or six nights during the tour on this beautiful boat. We would have an incredible experience that is normally reserved for the rich and famous, presidents and kings. (Afandina is normally chartered to the well-to-do seeking a private experience on the Nile, away from the large hotel cruise boats filled with tourists and packed together on the docks.)
We are also planning to see a rarely visited temple at Esna, with its untranslated hieroglyphics. Assuming we get approval, we will have a special treat for you here with my co-leader, a famous translator of Egyptian hieroglyphics, who is now on the staff of Berea College. Who knows what we may discover at this temple?
Normandi Ellis
I want to introduce you to Normandi Ellis. Some of you may know Normandi through Nicki's yearly Egyptian Mysteries retreats, and her books, which includes Awakening Osiris, her poetic translation the hieroglyphics of the Egyptian Book of the Dead. She also co-led two tours to Egypt with Nicki, and one with Jean Houston. What you may not know is that she is an incredible creative writing teacher. She could teach a stone how to write prose and poetry, beautifully and fluently! She will be leading a special writer's workshop during our tour of Egypt, using the Afandina as our schoolroom.
Now, it is up to you – would you be interested in joining Normandi and I on a tour like no other tour of Egypt? In addition to the usual Shamanic Journeys tour, replete with Egyptian Mysteries initiations and rites of passage in the temples and monuments, we will provide opportunities for you to create your written masterpiece.
We will create a book during the tour, with each participant as a contributing author to a publishable manuscript. If you have ever dreamed of seeing your words in print, with the added benefit of an expert teacher and editor to guide you, this is your opportunity. If you are already a published author, Normandi has edited many books and this will be an opportunity for you to polish your writing skills.
The tour would be from Oct. 12th to the 27th, 2009, spending six nights on the Nile with my new love, Afandina.
Come prepared to fall in love, for I want to share her with you. We will play queens and kings of the Nile, as we pass by the peons forced to suffer on the luxury cruise ships, wave at our adoring admirers along the banks and have afternoon tea on the deck. And we will create marvelous literature, together and separately.
Gloria Taylor Brown has worked with Nicki Scully for over 23 years, during which time she developed a deep connection with Egypt, and the Egyptian Mysteries. She has assisted Nicki by visioning the soon to be released Becoming an Oracle, as well as traveling on tours with her as visioner and co-leader.
Gloria's A Voice for Spirit Broadcasts are available free through Shamanic Journeys sponsorship, and continues to provide spiritual guidance to all listeners. Her new class, Beyond the Stargate, which begins in January 2009, was born on recent tours of Egypt.
To contact Gloria for more information, or to discuss this opportunity, call 206-310-3664, or email Gloria@avoiceforspirit.com.