Shamanic Journeys, Ltd presents
an Egyptian Mysteries Pilgrimage
The Wisdom of the Neteru
With Debbie Clarkin and Indigo Rønlov
March 9 – 22, 2018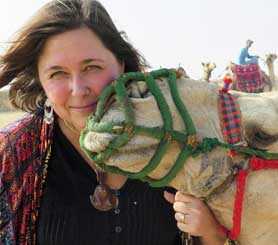 Rev. Kristin Indigo Rønlov M.A. received her master's degree in Ecopsychology from Naropa University, is a member of the lineage of Thoth held by Nicki Scully, and is a Minister of Walking Prayer with the Center for Sacred Studies. She is a teacher of the Egyptian Mysteries and a tour leader offering sacred pilgrimages to Egypt with Shamanic Journeys, Ltd. This will be her 12th trip to Egypt. As a priestess dedicated to serving Ma'at, goddess of cosmic order, justice, and harmony, she is committed to seeking and personifying Truth. Indigo is a student, practitioner, and teacher of the comprehensive healing art form, Alchemical Healing. Additionally, she brings deep shamanic experience, herbal studies, reiki, past life regression, and more to her medicine bag. It is Indigo's intention to live life in service to the health of our planet and all who reside here, and in this she has discovered something quite profound and rewarding.
Indigo's many trips in Egypt inspired her to develop the Zahra Handworks Foundation. Zahra is dedicated to sharing the value of handwork, especially when creating from reclaimed and recycled materials. Indigo's work with Zahra has already made a difference for those with whom she has shared in Egypt, including a loom recently installed in a new handwork center in Bahariya Oasis. Zahra Handworks Foundation is a 501c3 non-profit organization and is grateful for your interest and donations. More about Zahra can be found at Zahra Handworks Foundation and on facebook.
---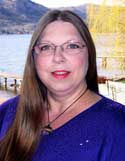 Debbie Clarkin is a member of the Lineage of Thoth and a student, practitioner, and teacher of both the Egyptian Mysteries and Alchemical Healing. She teaches from her home in Armstrong, British Columbia, across Canada, in the US, Australia, and Egypt. Debbie is a profound visionary and empath and her most treasured and potent gift is that of a skillful and powerful healer.
From the moment Egypt came into her life and when she is in Egypt, it is like finally coming home — safe and familiar. Working with the gods and goddesses is a reunion with old friends. Over these years, her vision continues to expand and her relationships with the Egyptian neteru family deepen. Debbie has traveled to Egypt with both Nicki and Indigo many times and returns to Egypt, her spiritual home, whenever providence allows.
In 2014, Debbie co-wrote with Nicki Scully, "Sekhmet—Fierce Compassion," a piece for Daughter of the Sun: A Devotional Anthology in Honour of Sekhmet. She has also helped develop many journeys in Nicki's books, including the soon to be published, Sekhmet: Transformation in the Belly of the Goddess.
---
See some of our sacred travel testimonials and reviews…
Read what a traveler has to say after FOUR TRIPS TO EGYPT WITH SHAMANIC JOURNEYS!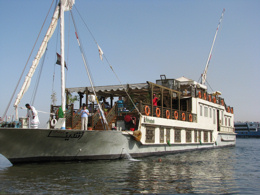 The Dahabeya Afandina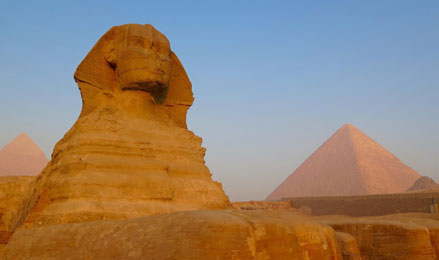 Debbie Clarkin and Indigo Rønlov are delighted to share with the you this special Egyptian Mysteries pilgrimage. It offers you a wonderful opportunity to connect with the spirit of Ancient Egypt and the Wisdom of the Neteru.
This tour package includes the following: four nights in Cairo at Lé Meridian with views of the Great Pyramids; nine nights aboard our beautiful dahabeya Afandina as we sail along the River Nile; visits to many ancient temples that include special private visits to select sacred sites; most meals; all travel within Egypt; teachings from Debbie and Indigo; and more.
We will participate in specialized teachings that take you throughout this land of antiquity as we engage in practices to enhance your innate visionary abilities. This journey offers you an opportunity to heal the connection between your High Self and the world. This allows you to recognize your sacred purpose and actualize the transformation required to fulfill it. Long after you leave Egypt and return to your ordinary lives, the Ancient Ones continue to provide a container for your spiritual transformation.
Take the Wisdom of the Neteru Initial Journey here…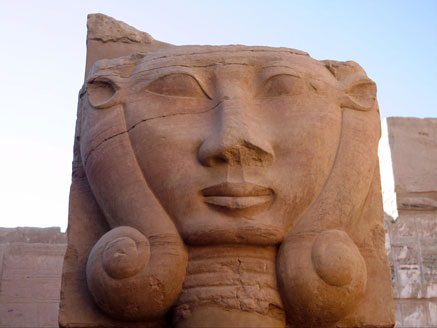 The intricately carved and colored stone monuments and temples still hold the empowered intentions of the adepts who built and consecrated them; and the ancient neteru, the Egyptian Pantheon, are alive and waiting to share both their wisdom and boundless love.
The neteru are potent allies—when you offer your attention to them with focused intention and inquiry, you will receive visions and information directly as their wisdom opens up to inform and guide. Throughout this journey of spiritual initiation, we will engage alchemical energies to further open your perceptions as you gain access to the ancient ways of the priests and priestesses of Egypt. In addition to the sites and the neteru, we experience the beauty and warmth of the Egyptian people everywhere we go.

Early-Isis Special
If you register for this tour before June 1, 2017, Shamanic Journeys, Ltd. is glad to offer you a special discount! Details are included when you request the Registration Information below.
We welcome up to 18 participants to join us for this trip of a lifetime. To receive registration information for this tour, please request your Registration Information below and we will email you everything you will need to join this special pilgrimage.
Please read this important travel information: