Egyptian Mysteries
& Service Journey
with
Nicki Scully & Indigo Rønlov
March 17 ~ 31, 2014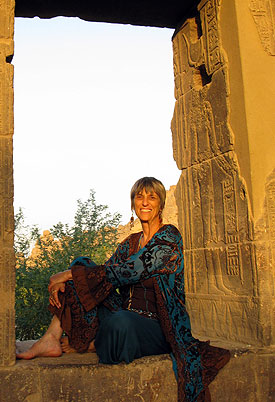 Nicki Scully has guided many hundreds of spiritual seekers through Egypt, while forging relationships with the family of the divine neteru, and also with the people of modern Egypt who care for us and guide us throughout our adventure. For more information about Nicki, see our staff page.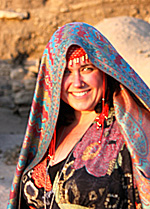 Rev. Kristin Indigo Rønlov is a student, practitioner, and teacher of Alchemical Healing and is initiated into the Lineage of Thoth. Additionally, she is an ordained Minister of Walking Prayer with the Center for Sacred Studies. Indigo also brings deep shamanic experience, Reiki, herbal studies, past life regression, ecopsycholgy, the Work that Reconnects, and group facilitation to her medicine bag. It is Indigo's intention to live life in service to the healing of our planet and all that reside here.
Here is a video with Indigo demonstating the technique for creating "plarn," a yarn made from plastic bags.
See some of our sacred travel testimonials and reviews…
Read what a traveler has to say after FOUR TRIPS TO EGYPT WITH SHAMANIC JOURNEYS!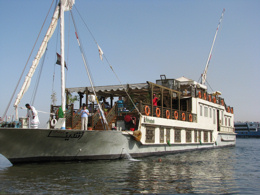 The Dahabeya Afandina
With so many wonderful things going on to help bring light and transformation into our lives, we are most enthusiastic about our upcoming magical mysteries service tour to Egypt.
For those of you who are not familiar with Indigo Rønlov, my co-leader on this trip, she is part of the Thoth lineage and a teacher of Alchemical Healing, amongst many other deep and varied credentials. S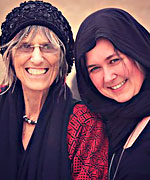 he is currently working on her Masters in Ecopsychology at Naropa University, and is combining her studies and thesis with a service project in Egypt that we are adding to our tour. Indigo has a great passion for Egypt, her people and the dire ecological problems that exist there as it reflects a worldwide pandemic of disrespect for our environment. Obviously, with a full tour schedule (we don't wish to take away from the deep spiritual alchemy for which our trip is intended), those who join us will need to have their own special commitment to helping with our service project, thus affording an opportunity to interact with Egyptians and especially, the children of Egypt. Indigo describes her plans in further detail in her own letter below.
Maximum 16 participants for this tour.
While holding the dynamic of a mutually supportive, co-creative and harmonious traveling community, we will delve deeply into an experience of healing, transformation, and renewal. Each participant in our group carries a piece of the larger picture of what we will create together. Through our rites and rituals you will remember your soul's connection to the mythic tradition of ancient Egypt, and you will re-member your self.
During this consciousness expanding, life-changing spiritual adventure you will experience some of the initiatory rites of passage from Shamanic Mysteries of Egypt, and receive guidance from the new oracle book and card deck, The Anubis Oracle.
The group will be joined by Alchemical Healing teacher Indigo Rønlov. She will be bringing her interest and education in Ecopsychology to the Egyptian mysteries by weaving the pursuit of her master's degree into this Service Tour.
Her current working thesis is: Can combining a service learning impulse into an Egyptian Mysteries Tour ecopsychologically connect the heart, the land, and a right to livelihood? This master's paper explores if ecopsychological identification arises and what benefit comes from this when all participants are unified in service and offered an opportunity to strengthen their relationship to and respect for the land and a culture.
There is no place like Egypt, and no doorway into her mysteries like the one we will enter together.
Letter from Indigo—
Greetings Intrepid Travelers!
From the start, I want to extend my deep gratitude for your interest in joining this upcoming Egyptian Mysteries Service Journey. The act of being in service to something greater than oneself opens a pathway from our head to our heart in beautiful and profound ways. This potent tour will bring us, the participants, through our individual alchemy into a planetary alchemy, allowing us to focus on the healing of this precious world from which we all come and depend. We will do this through the joining of the Egyptian mysteries with our service and direct action as we travel through Egypt along the Nile.
As in much of Africa, single use plastic has become an epidemic to the landscape, ecological health, and culture of Egypt. Plastic is so prevalent in the world today it is as if humanity has forgotten how to function without it. It is true that it has served us in many, many ways, yet our extreme manufacture of plastic products comes at a cost. Beyond the visual impediment of garbage in the landscape, there are, in fact, a number of health consequences of discarded plastic in the environment including damage to wildlife and waterways, and problems with disease and toxicity.
As a team of Sacred Warriors, we will gather trash strewn in and around the sacred monuments we visit. At a couple of the yet-to-be-determined locations, we will partner with the locals—teachers and children, NGO's and applicable organizations—to work together with our efforts. These service partners can teach us much about their lives and culture while we can share how to reuse some of the waste as a raw material, such as the plastic bags made into plastic yarn called "plarn" to create art and utilitarian commodities like carpets and re-useable shopping bags. We will show how to pack dry trash into plastic water bottles, which become "bottle bricks" used for building. Additionally, we will offer what we know about plastics and why it is advantageous to limit its infiltration into the environment. In preparation for our upcoming Service Journey, I will be traveling with my teenage son to Egypt in December 2013 to establish our Egyptian service partners and work out the special arrangements for when we come together in March. Those who commit to this journey will receive updates from me while I am there.
I look forward to traveling with you and co-creating a rich and meaningful journey that serves the hearts, mind, and soul of all who participate.
Many blessings,
~indigo
P.S. One more thing… As we move towards our time together in March, I encourage you to ponder what being in service means to you, how it manifests in your life, and how you envision yourself being in service in Egypt. In addition to our time as Sacred Warriors for Egypt, we also have the opportunity to be in service for each other. What skills or gifts do you bring that you would like to offer the group? In this way, we remember the gift of community, whether a village along the Nile, a group of courageous travelers, or your people in your home town. When we share because we care something magnificent happens. In appreciation.
Please read this important travel information:
PRICE AND PAYMENT: The price for this trip is $6789 and includes international airfare. We will be posting a payment plan soon. Please register your interest, and we will keep you informed with updates about this trip. The land-only cost for this trip is $6089.
For more information E-Mail us at office (at) shamanicjourneys.com
Or contact: Shamanic Journeys, Ltd. PO Box 5025, Eugene, OR 97405 (800) 937-2991 or (541) 484-1099 Fax (541) 686-5960