---
---
Teleclass and Webcast, May 20, 6pm Pacific Time (9pm Eastern)
Join Nicki Scully and Gloria Taylor-Brown in a free teleclass by phone or webcast. This class will cover the basics of the Egyptian Mysteries and the pantheon of Egypt plus a discussion of the November trip to Egypt. Join in and find out what all the excitement is about…
---
Sekhmet: In the Belly of the Goddess

Egyptian Mysteries Teleclass with Nicki Scully
June 4, 11, 18, 25 at 5:30pm PDT ( 8:30 EDT)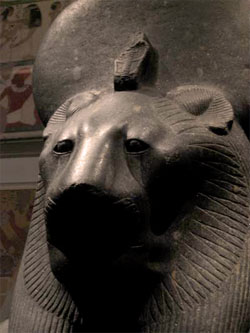 You are invited to drink deeply of the nectar of the Goddess, and awaken to renewed life! Sekhmet's name means Power, the Mighty One. She is the feminine face of the sun, the Lady of Flame. During this time of planetary peril, she is calling for recognition and wishes to empower all who respond to her call. Known to all traditions, her myths and legends are as old as time. Sekhmet, the Egyptian goddess of both destruction and healing is the feminine fire that transforms; she is also the quintessential compassionate healer. Sekhmet's name is resounding from the lips of men and women who are actively reclaiming their power.
During the eight hours of phone time, and with some homework (mostly paying attention!) you will transform your deepest and most contentious habit patterns. Sekhmet will also help direct you toward fulfilling your sacred purpose, your reason for being on the planet at this time.
Join us for four weekly 2 hour sessions: Thursdays, June 4th, 11th, 18th, and 25th from 5:30 - 7:30 PM Pacific Daylight Time (8:30-10:30 PM Eastern Time). Tuition is $159.
Please register in plenty of time so that you can get the materials needed. I can send it to you for a small materials fee and shipping. Pre-registration is required, and space is limited.
---
For updated events and a full schedule, please go to our schedules page.
Shamanic Journeys, Ltd.
(541)484-1099
email: office@shamanicjourneys.com